RookChessmonEdit
How do you unlock RookChessmon? You can get RookChessmon by leveling up pawnchessmon up to level 90. Want too know why it is level 90? It is because just look at its a full-blown war machine!
Where To Get RookChessmon
Edit
Let me just say this again you cant find or use something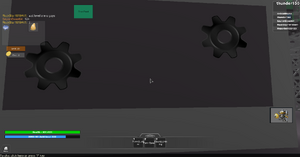 To get this digimon it's currently only a form of Rookchessmon the ultimate state of the PawnChessmon line. So goto the back of the city in the generator house and open the panel in order too get the first form then level it up to level 90 and you got RookChessmon!
RookChessmon's Attacks
Edit
First of all there is a strong move that is called
RookGattling, This does 10 damage each bullet and does 70 damage all together and you can switch direction of the bullets whenever you want too so it isn't like all those other attacks.
CastleWall, This attack does no damage and this is no attack because this is more like a shield attack you can't get hurt neither you can't fall while in the wall attack, you can still use RookGattling so it's basically you can hurt them but they cant hit you.
Stronghold, This attack is a ferocious attack it's the strongest attack you can get with this digimon this attack does 80 damage yes thats right 80 damage, it charges you in a square box that hits your enemies and makes them fly across the whole map!
Evolutions
Edit
QueenChessmon- QueenChessmon
Previous Forms
Edit
PawnChessmon- PawnChessmon
KnightChessmon- KnightChessmon